These ultra successful millionaires have some crazy tweets:
Kayne West
Kayne West is known for his outlandish behavior. Here is his all time most infamous tweet:
Water bottle maintenance and overhead is not discussed enough these days…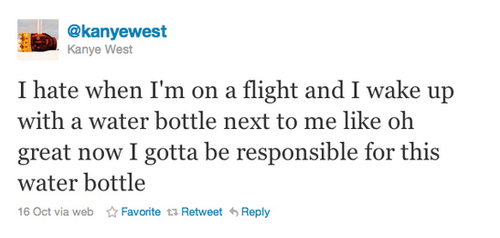 Oprah
This tweet for Oparah's sponsored weight loss program earned her millions. I think I really love bread now too…
Eat bread. Lose weight. Whaaatttt? #ComeJoinMe https://t.co/jUgpk9ToXYhttps://t.co/xtnB53EwSf

— Oprah Winfrey (@Oprah) January 26, 2016
Richard Branson
The eccentric entrepreneur and owner of Virgin Airlines really goes out of his way to build his brand.
Why am I dressed as a mermaid, you ask? #MakeASplash https://t.co/2MAqn4yRaS @oceanunite pic.twitter.com/BivrzYI97P

— Richard Branson (@richardbranson) June 8, 2016
Lindsay Lohan
Poor Lindsay…
Hello Facebook. Yes, this is actually Lindsay. Welcome to my Facebook page!

— Lindsay Lohan (@lindsaylohan) February 10, 2011
Justin Beiber
Arms are great?
i love arm

— Justin Bieber (@justinbieber) January 1, 2012